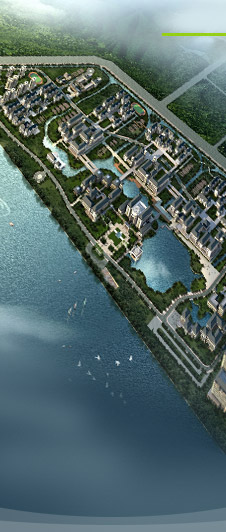 Overview
Larger Space to Scale New Heights
The University of Macau (UM) is the best public comprehensive university in Macao. On 27 June 2009, the Standing Committee of the National People's Congress (NPC) of the People's Republic of China (PRC) approved the new UM campus bill and authorized Macao SAR to exercise jurisdiction over the new campus after it is put into use. This significant decision shows PRC's support for and confidence in Macao SAR and UM, and also brings an unprecedented opportunity for UM. Once the new campus is built, UM will have a larger space to pursue its educational ideals.


Aiming for World-class
The groundbreaking ceremony for the new campus took place on 20 December 2009. President of PRC Hu Jintao, in the company of Chief Executive of Macao SAR Dr. Chui Sai On, officiated at the groundbreaking ceremony and expressed his high expectations for the university to become a world-class university with world-class facilities, a world-class faculty team, world-class students, and world-class achievements. UM will seize the opportunity brought by the new campus, and implement concrete measures towards the realisation of these expectations. All UM members will follow President Hu's instructions conveyed in his inscription: "Love China, love Macao, learn extensively, and practice earnestly," and work hard to develop UM into a world-class university and produce graduates with high ideals, a global mindset, and the ability to make contributions to Macao and China.

On 5 November 2013, UM held the inauguration ceremony for the new campus in the University Hall on the new campus. State Council Vice Premier Wang Yang officiated at the ceremony. The inauguration of the new campus ushered in a new era for higher education development in Macao.


Access via Tunnel with No Immigration Clearance
The new campus will be under the jurisdiction of Macao SAR after it is put into use. It is separated from Taipa, Macao by a waterway, with the luxuriant Hengqin Mountain forming a beautiful backdrop. Covering an area of approximately 1.09km2, it will be nearly 20 times larger than the current campus and will be able to accommodate approximately 15,000 students. An underwater tunnel will ensure convenient, 24-hour access to the new campus from Macao without the need to going through immigration clearance.


More Faculties to Offer More Choices for Students
Faculty of Business Administration, Faculty of Education, Faculty of Law, Faculty of Science and Technology, Faculty of Social Sciences, Faculty of Arts and Humanities, Faculty of Health Sciences, and Institute of Chinese Medical Sciences will be established, in order to offer more choices for local secondary school graduates, and also to educate professionals in various fields to contribute to the moderate industrial diversification of Macao.


Residential College System
A residential college system, which is adopted by many world-class universities around the world, will be implemented on the new campus to complement the faculty-based system. Between eight and twelve residential colleges will be established, and every college will be inhabited by students of different majors and years of study. Various competitions and recreational activities will be organised to offer students more opportunities to interact with each other, strengthen teamwork, develop leadership skills, acquire self-discipline, become more independent, and receive a multifaceted education.


Open Scientific Research Base
There will be an open scientific research base on the new campus, which will house UM's two state key laboratories in Chinese medicine and microelectronics. The research base will mainly focus on medical sciences, information and electronics, and energy and environment, and is expected to facilitate technology transfer and incubation of innovative industries. Sufficient space in the research base will be reserved in anticipation of new research projects that will continuously emerge in the future as well as projects in new fields to be carried out in collaboration with other research institutions. The research base will not only help enhance joint research efforts between UM and other universities in Macao, the Pearl River Delta region and China, and help UM achieve research excellence, but will also create opportunities for Macao-Guangdong collaboration and industrial diversification of Macao.


People-oriented Design
Mr. He Jingtang, chief designer for the new UM campus, is a recognised leader in architectural design in the Greater China region, member of the Chinese Academy of Engineering, and chief designer for the China Pavilion for the World Expo 2010 Shanghai. In order to build a green, efficient and energy-efficient campus, the master plan for the new campus highlights the following five principles and concepts: "people-oriented," "sustainable development," "modern and IT-based," "garden-style layout," and "integration of Chinese and western cultural elements".


An Environment Conducive to Education
Environment has a considerable bearing on education. A good environment positively influences character development, motivates students to study hard, stimulates their creativity, and helps them achieve full potential. The new campus, with multi-leveled garden-style elements, conveys the message of harmonious coexistence of humans and nature.


Efficiency, Environmental Friendliness and Sustainable Development
The new campus is a modern, energy-efficient and environmentally friendly campus with advanced facilities and much larger green areas. Renewable energy will be used whenever possible for resource conservation. Sufficient land resources will be reserved to ensure sustainable development of the university. Advanced technologies will continue to be applied to create a smart e-campus and improve efficiency in teaching, research, administration, study, and everyday life.