Fashion goes online with Little Miss Violet
By Xyryl Amor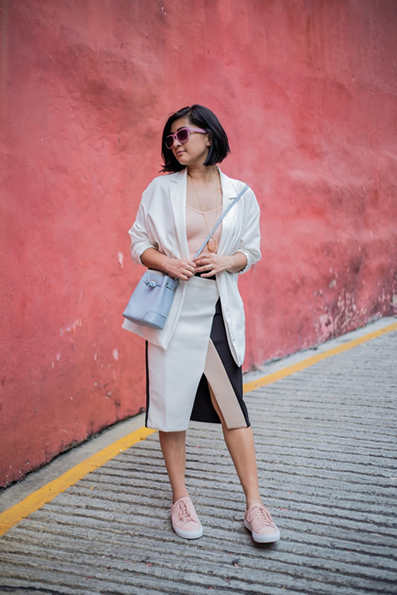 On a quiet cloudy afternoon at the Cinnebar in Wynn Macao, a young woman with an interesting fashion sense sipped her Berry Infusion. "I can never define my style but the elements I go for is casual, cool yet effortless," said Carla Florendo, founder of the blog "Little Miss Violet".
Florendo is one of many from all over the world who represents a legion of online fashionistas – also known as 'fashion bloggers'.
What are fashion bloggers? They start off as fashion enthusiasts who post about fashion, personal style, and their private lives with a click of a button. Their existence became known in the mid-2000s with its first generation of fashion bloggers, such as Scott Schuman, Susanna Lau, Bryanboy and Tavi Gevinson; their one uniting feature was an opinion and a unique perspective on fashion, whether it be about experimenting on different styles and elements, or street photography as opposed to the traditional outlet.
They spread their ideas over digital means so as to be free from the constraints of traditional journalism. The rest followed and were seen and recognized as influential people in the industry, who command a legion of followers on social media sites such as Facebook, Instagram, and Twitter. As a result, they collaborate with high-end fashion brands and are regular fixtures lining the front rows at shows during Fashion Month in four major cities: New York, London, Milan and Paris.
Fashion blogging is an art form for Florendo as she finds "creative ways to dress" herself. For her, the burning passion ignited with "Lookbook", the number one source of fashion inspiration from real people around the world, as the website claims.
The 25-year-old blogger from Macao recalled the time when "Lookbook" allowed showcasing fashionable netizens through "invites only". Since she could not get one, it motivated her to start her own look book, thus, creating "Little Miss Violet".
Many fashion bloggers have broken out into celebrity status, however, for Florendo it is a struggle to skyrocket into success in the gambling hub of the Pearl River Delta. "Macao's market is not that big," she pointed out the geographical size of the region, and "fashion isn't that big… compared to the US or Europe," she continued.
According to Florendo, one can see a lot of people in Macao wearing "Korean smart fashion" but you also notice people wearing "European fashion". When it comes to Hong Kong's fashion scene, she described it as positively "weird" and "unproportionate". She explained that "you can tell where someone is from" based on their clothing and style.
Over the years, Florendo has collaborated with the Swedish multinational clothing brand H&M. The Swedish retailer regularly invites her to Hong Kong whenever they have a new collection previews or exhibits. "There was one time that I went to Fashion Week and I had to take multiple trips back and forth to Hong Kong and Macao," she recalled of her experience. Florendo has met designers and other fashion bloggers and described them as "one big pool of creative people".
Although Florendo does not collaborate much with brands as she once used to due to her full-time job at a Business Consulting firm, she is thankful that the people who invited her and collaborated with her "recognized" the type of area she is doing.
"The influence of fashion bloggers over the industry the past years has been enormous… and the community is continuously growing," she said as she considered the future of fashion bloggers. Florendo is certain that they will still be relevant and hopes that fashion blogging will be considered as a legitimate form of business changing the way of collaboration with brands.
"Little Miss Violet", the moniker Florendo uses for her blog, commands more than 3,500 followers on Instagram and receives more than 8,000 page views per month. She has also worked with Forever 21 and Jack Wills.
"I'm not the only fashion blogger in Macao," Florendo smiles.